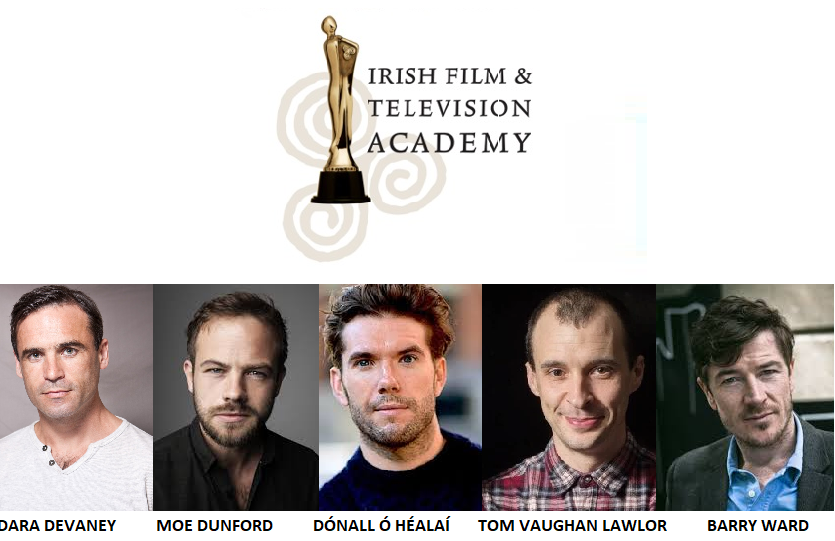 IFTA NOMINEE ROUNDTABLE: LEAD ACTOR - FILM
WHEN:Wednesday 30th September - 7PM
WHERE: REGISTER
The Irish Film and Television Academy (IFTA) continues its series of online discussions with, IFTA NOMINEE ROUNDTABLE: LEAD ACTOR - FILM
The round-table discussions series provide unique insight into creating award-winning film and television, with screen professionals at the very top of Irish and International filmmaking.
Joining us to discuss their award-nominated films are:
Dara Devaney (Finky)

Moe Dunford (The Dig)

Dónall Ó Héalaí (Arracht)

Tom Vaughan-Lawlor (Rialto)

Barry Ward (Extra Ordinary)




LEAD ACTOR FILM: FULL LIST OF NOMINEES

Dara Devaney
Finky


Dara Devaney plays the part of Michael in Carmel Winters' FLOAT LIKE A BUTTERFLY. He has most recently been cast opposite Jill Halfpenny in THE DROWNING. Further recent credits include the part of Patsy alongside Michael McElhatton and Peter Coonan in the feature ARRACHT. Dara won a BEST ACTOR Irish Academy Award (IFTA) for his role as Séamus in AN KLONDIKE.

Barry Ward
Extra Ordinary


Barry Ward is best known for playing the title role in Ken Loach's award-winning feature film JIMMY'S HALL. Barry has been appearing on screen since he was 14. He is currently playing the leading role in the ITV series DES. His most recent appearances include THE END OF THE F*CKING WORLD; SAVE ME; THE CAPTURE, opposite David Tennant and Daniel Mays. He was nominated for an IFTA for his appearances in REBELLION and for MAZE in 2017.

Liam Neeson (Unable to participate due to work commitments)
Ordinary Love


Liam Neeson gives a tender performance as Tom, the husband of Joan (Lesley Manville) who discovers she has breast cancer in this romantic feature film Ordinary Love, which was filmed in Ireland. He is an internationally recognised actor who has appeared in over 70 films, including Schindler's List, Michael Collins, The Grey, Kinsey, the blockbuster Taken trilogy, Star Wars: Episode 1 - The Phantom Menace, Batman Begins.

Moe Dunford

The Dig


Moe Dunford is a Dungarvan native who first appeared as Patrick in PATRICK'S DAY by Terry McMahon in 2014, for which he won a Best Actor IFTA among many other international awards. Since then he has appeared in leading roles in many award-winning features like THE DIG and ROSIE, as well as recurring leading roles in VIKINGS and DUBLIN MURDERS.

Tom Vaughan Lawlor

Rialto


Tom Vaughan Lawlor's most recent work includes DUBLIN MURDERS, AVENGERS: ENDGAME, AVENGERS: INFINITY WAR, CITIZEN LANE, THE CURED, MAZE, DAPHNE, THE SECRET AGENT, and THE INFILTRATOR. He is currently working on FRANK OF IRELAND for Channel 4 and Amazon.

Dónall Ó Héalaí

Arracht


Dónall Ó Héalaí was born in Galway and now lives in Dublin. Included in his credits are Impossible Mondaters, Traders, My Name is Emily, Loud Places and Pursuit amongst others. He studied in Bow Street Academy of Screen Acting in Dublin.