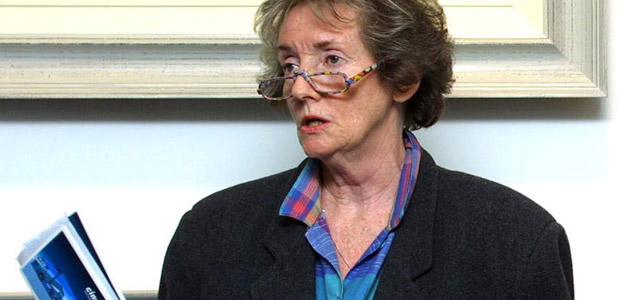 in conversation with... lelia doolan
with summer Buffet & Drinks Reception
event DETAILS
When:
10 July 2010, 2pm

Where:
Cinemobile @ Galway Film Fleadh (located beside Town Hall Theatre)

All seating is unreserved

Contact info:
+ 353 1 6624120
membership@ifta.ie

IFThe Irish Film & Television Academy and the Galway Film Fleadh are proud to present

Lelia Doolan ... In Conversation With Bingham Ray on Saturday 10th July at 2pm, in the Cinemobile.

What would it take to be called "mad, bad and dangerous" in the Sixties? And by an Archbishop! This is exactly how Archbishop John Charles McQuaid described this year's Irish tributee, Lelia Doolan.

Lelia is a multi-faceted pioneer, who has blazed a trail in many walks of life as an actor, director, producer, chairwoman, journalist, lecturer, researcher, leader, friend, gardener, doctor, agitator, environmentalist, community worker, sister, daughter, aunt, fighter, neighbour, contrarian and paradox. But above all she is a visionary who has not only enriched the cultural life of Ireland but also the lives of everyone who knows her. Although much has changed in Ireland in the forty years since McQuaid's assessment, Lelia hasn't...
Lelia Doolan does not enter company; she descends on it. Like the time she invaded a Hollywood board room meeting with a package of Irish smoked salmon to intimidate the fatcats into giving her money for Reefer & the Model. I don't care if this might be apocryphal. She is already an apocrocrypt (that's an original, like her) in her own lifetime, not to say apocalyptic, the fifth horseman even.

But this is all a front: Jack Dowling once told me that Doolan contained the most exquisite sensibility he had yet encountered. It must be true, but she is no aesthete. How else would she know the precise moment when to lower the howitzer and talk incredibly softly to the conquered, making him/her a slave for life, getting them to do IT, whatever it is, whether tearfully or defiantly.

Where would the Fleadh or Irish film-making be without her? Uninteresting. Okay, so what has she done? Persuaded, barracked, bamboozled, everybody from Putnam to Stoneman, Perry to Collins, from would-be film makers to astonished focus-pullers that it is better to do something badly than never do it at all.

She is a real Producer. Not the sort that is interested in the fat of a film, the 12.5% off the top, the star name, the tailoring for Middle America, your people talking to my people, but the big picture: the art of film, the culture of a people. Not airy-fairy, not arty-farty, not pub-talk but the unmistakeable guts of a work that make it true and meaningful. Film can be that and Doolan knows it in her bowels and rages against the facilitators of trivia. No, that's not true. She does not rage. She uses good policeman, bad policeman technique to stir our own sensibilities. And she often fails and fails better every time. If you want some of her minor monuments, look at the Cinemobile, look at the Fleadh, look at the new Solas cinema-to-be in Galway and very important, look at her garden. She knows how to nurture, with brutal spade or gentle fingers. She is an educator. She leaves a track.

What is an Irish film, she was once asked. 'That's for us to know and them to guess', she responded. The same applies to her. I have known her for forty years and still have only the above fleeting impressions.

To be lugubrious, if ever she disappears - which is impossible - Matthew Arnold should write her epitaph: "Others abide our question. Thou art free. We ask and ask: thou smilest and art still, out-topping knowledge."

May she continue flowering and scattering her inspirational pollen.
Bob Quinn>