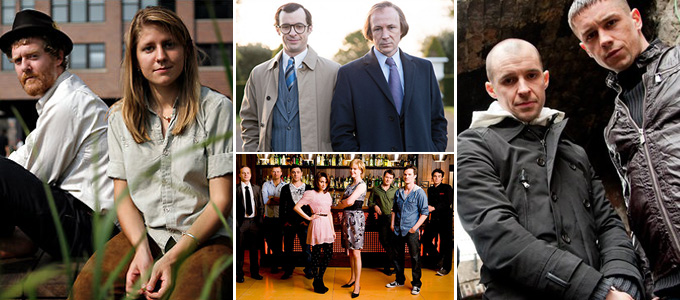 CASTING SCREEN TALENT – with MAUREEN HUGHES
Academy member can RSVP for this screening to academyevents@ifta.ie
Date:Thursday 5th March 2015
Venue:Shelbourne Hotel
Time:7.00pm
Casting Director Maureen Hughes explores the process of casting for the screen
Maureen Hughes has cast over 40 Irish features and 22 dramas, with credits including 'Once', 'Love/Hate', 'Raw' and most recently the acclaimed political biopic 'Charlie'. At this IFTA Academy Members event, Maureen will explore the process involved in casting for the screen – working with the director, auditions, watching a LOT of shorts, and creating chemistry between actors in casting.
Maureen joined UK Casting Director Susie Figgis in 1996 to cast the lead role for Neil Jordan's The Butcher Boy and subsequently went freelance in film and television casting. Film credits include the low budget Irish film Once which won an Oscar for Best Song in 2009 and Six Shooter which won the Oscar for Best Live Short in 2006. Other films include Wakewood with Aidan Gillen, Eva Birthistle and Timothy Spall. Television work includes Amber, Single Handed, Raw, Love/Hate and Charlie - all of which have broadcast on RTE.
Recently, she worked on Traders with emerging talent John Bradley (Game of Thrones) and Killian Scott (Calvary). She has also worked on Paolo Sorrentino's This Must Be The Place starring Sean Penn and young Irish actress Eve Hewson, A Thousand Times Good Night starring Juliette Binoche and Nicolaj Coster-Waldau, Noble, a film starring Deirdre O Kane as Christina Noble (which has just won Best International Film at Santa Barbara 2014). She is about to begin work on a new historical drama Generation which will shoot in May of this year and is set in the period of 1916.

Maureen operates out of the Bow Street Screen Acting Academy in Dublin where she is part of the team who run The Bow Street Programme for Screen Acting. Previously run through The Factory in Barrow Street, Hughes joined Shimmy Marcus and Paul O Connor last year to establish the new Actors Studio in Bow Street. This initiative has proved incredibly successful and the team now run an Actors Studio, Bow Street Young Filmmakers Academy and recently announced an exciting collaboration with Spotlight UK which will help define Bow Street as the home of Irish Casting. She continues to work as Consultant Casting Director with the internationally renowned Druid Theatre Company and has also recently cast A Particle of Dread - Sam Shepherd's new work at Field Day Theatre Company in Derry, which stars Stephen Rea.
Filmography
In Development
SHERIFF ST DIR JIM SHERIDAN Prod Hell's Kitchen
FEATURE FILM
NOBLE DIR; STEPHEN BRADLEY Winner of Spirit for Best Independent Film at Santa Barbara 2014 Prod Melanie Gore Grimes
RUN AND JUMP Dir; STEPH GREEN Maxine Peake and Will Forte Prod; Tamara Anghie /Martina Niland
A THOUSAND TIMES GOOD NIGHT Dir; ERIK POPPE With Juliet Binoche and Nicolaj Coster Waldau Prod: Jackie Larkin/ Newgrange Film
THIS MUST BE THE PLACE Dir. PAOLO SORRENTINO With Sean Penn, Frances McDormand Prod INDIGO Films, Rome/ELEMENT
Dollhouse Dir KIRSTEN SHERIDAN Prod Factory Films
The Rafters Dir John Carney Prod; Martina Niland/MacDara Kelliher
Once Dir John Carney Winner of Audience Award, Sundance 2007 Prod Samson Films, Dublin Oscar Winner for Best Song 2008
Watermelon Dir; Kieron J Walsh With Brenda Fricker Prod: Saurabh Kakkar - Granada TV and Anna Friel
Gangs of New York Dir: Martin Scorsese Casting, Ireland CD Ellen Lewis
Disco Pigs Dir: Kirsten Sheridan Cillian Murphy and Elaine Cassidy Prod: Ed Guiney, Temple Films On The Edge (The Smiling Suicide Club) Dir: John Carney Prod: Ed Guiney for Hell's Kitchen
SHORT FILMS include:
SIX SHOOTER Dir: Martin McDonagh With Brendan Gleeson Prod: Kenton Allen - Civilian Content Films BAFTA 2005 NOMINATED OSCAR WINNER 2006
KID KANTURK – Dir John Butler Prod Wildfire Films
RUNNERS – 2010 Dir; Rob and Ronan Burke
IFTA WINNER for Best Short 2010 Prod; John Wallace
TELEVISION
CITIZEN CHARLIE Prod Touchpaper/Octagon
Aidan Gillen, Tom Vaughan Lawlor
LOVE HATE (current) Prod Octagon Films Aidan Gillen, Robert Sheehan, Ruth Negga Dir; David Caffrey
RAW – Series 1 – Series 5 Prod Ecosse TV, London
SINGLE HANDED 1 2 3 AND 4 Dir Colm McCarthy/Thaddeus O Sullivan Prod Clare Alan Touchpaper Films AMBER Dir Thaddeus O Sullivan Prod Paul Duane
THEATRE
A PARTICLE OF DREAD DIR Nancy Meckler A new play by Sam Shepherd FIELD DAY THEATRE
WAITING FOR GODOT DIR Judy Hegarty GARE ST LAZARE PLAYERS
DRUIDMURPHY DIR; GARRY HYNES 3 plays by Tom Murphy Druid Theatre Company
THE Cripple of Inis Meain 2011 Dir Garry Hynes By Martin McDonagh Druid Theatre Company/Atlantic Theatre, New York 2008 Long Day's Journey Into Night Dir Garry Hynes with James Cromwell and Marie Mullen Druid Theatre Company
Walworth Farce/ New Electric Ballroom by Enda Walsh Dir Mikel Murfi Winner of Fringe First, Edinburgh for Druid Theatre Company 2007
The Lieutenant of Inishmore Dir: Wilson Milam By Martin McDonagh Royal Shakespeare Company / West End, London/Atlantic Theatre, NY Winner of 2004 Olivier for BEST NEW COMEDY Tony Nominated on Broadway 2006
The Beauty Queen of Leenane Dir: Garry Hynes By Martin McDonagh Druid Theatre / Royal Court / Winner of 4 TONY Awards 1998 Atlantic Theatre, New York
Charlie Trailer