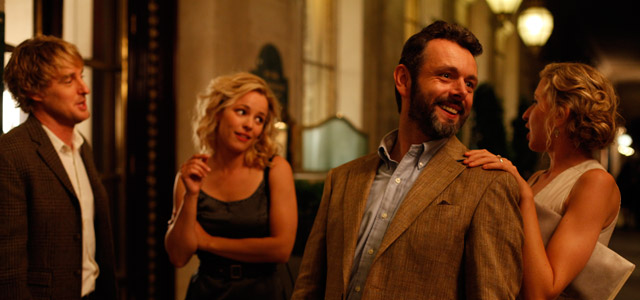 MIDNIGHT IN PARIS FIRST LOOK IFTA PREMIERE SCREENING
exclusive screening OF WOODY ALLEN'S LATEST ROMANTIC COMEDY SET IN THE CITY OF LIGHT
event DETAILS
When:
Monday 3rd October 2011

Where:
Irish Film Institute (IFI), 6 Eustace Street, Temple Bar, Dublin 2

All seating is unreserved

Contact info:
+ 353 1 6624120
membership@ifta.ie

With thanks to Warner Bros Pictures.
The Irish Film & Television Academy is delighted to invite you to the preview screening of Woody Allen's latest film Midnight in Paris taking place on Monday 3rd October in the IFI as part of IFTA's series of Members First Look Screenings.
Midnight in Paris - a romantic comedy about a family on a business trip in the City of Light, stars Owen Wilson, Rachel McAdams, Marion Cotillard, Kathy Bates, Carla Bruni, Adrien Brody and Michael Sheen. The film premiered at the 2011 Cannes Film Festival.
ABOUT MIDNIGHT IN PARIS

Engaged couple Gil (Owen Wilson) and Inez (Rachel McAdams) travel to Paris on a family business trip. Gil, a screenwriter who had aspirations to be a serious writer when he was a younger man, idolizes American novelists like Hemingway and Fitzgerald, and wants to be a novelist in their tradition. But somewhere along the way, Gil left that path, discovered he had a talent for writing screenplays, and fell into a well-paid routine of work that didn't satisfy him and affluence that he wasn't entirely comfortable with.