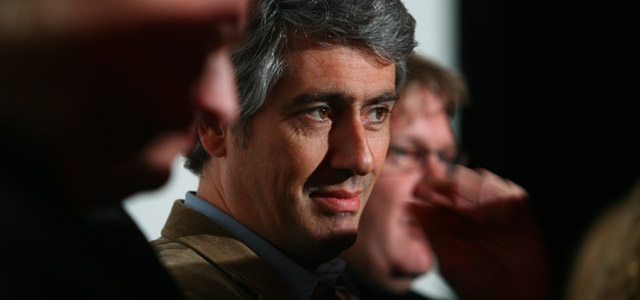 the ifta music forum: music for the moving image
with dario marianelli, maggie rodford, becky bentham, kirsten sheridan, stephen mckeon, david collins, robert walpole and derek gleeson
event DETAILS
When:
4 September 2009

Where:
Light House Cinema, Smithfield

All seating is unreserved

Contact info:
+ 353 1 6624120
membership@ifta.ie


IFTA is delighted to invite Irish Film & Television Academy Members to the inaugural IFTA Forum on Friday, 4 September, 2009.

The IFTA Forum is designed to create a platform where IFTA Academy Members and invited industry experts will come together for learning, creative discussion and debate on a chosen industry topic. The IFTA Forum 2009 will focus on Music for the Moving Image.

Taking place on Friday, 4 September, at Dublin's Light House Cinema, the IFTA Music Forum will be a collaborative, creative and productive analysis of composing music and soundtracks for film & television.

Among the special guests attending the IFTA Music Forum 2009 will be:
Oscar, Golden Globe and Ivor Novello winning composer Dario Marianelli, whose credits include Atonement, Pride & Prejudice, V for Vendetta, Neil Jordan's The Brave One, I Went Down, Shrooms and A Very British Gangster


Maggie Rodford, Managing Director of the Air-Edel Group, one of the world's leading music publishing and production companies, representing composers worldwide


Becky Bentham, whose credits include Mamma Mia!, Hotel Rwanda, Blood Diamond and Neil Jordan's latest Ondine


Irish Writer/Director Kirsten Sheridan, whose 2007 feature August Rush received critical acclaim and a Grammy nomination for its original soundtrack


IFTA winning composer Stephen McKeon, whose credits include The Tiger's Tail, Blind Flight, Borstal Boy & Agatha Christie's Poirot


David Collins, producer of the Oscar winning feature Once


Producer Robert Walpole, whose credits include I Went Down, The Eclipse and Shrooms


Conductor, composer and lecturer Derek Gleeson, whose credits include Kitchen and The White Pony
 THE IFTA MUSIC FORUM SCHEDULE OF EVENTS
* 3pm - WORKSHOP - The Director, Producer & Composer: Exploring the Possibilities

The goal of this workshop is to foster a better understanding of the Composer's scoring process, and to further an awareness of how an effective collaborative working relationship between the Director, Producer, Composer, Music Supervisor, Music Editor and Recording Engineer/Mixer produces an excellent final soundtrack.

4.30pm - PANEL DISCUSSION - The Forum Focus: Music for the Moving Image

An in depth panel discussion followed by Q&A session

7pm - SCREENING - An Exclusive Preview Screening of The Soloist, presented by composer Dario Marianelli

(The Soloist is made available through Universal Pictures)


The IFTA Music Forum 2009 is free to attend for Irish Film & Television Academy (IFTA) Members.

If you wish to reserve your place for one or all of the Forum events email membership@ifta.ie by 12noon, Friday, 28 August 2009. Places are limited so early booking is advised*

Not a Member? To apply for IFTA Membership visit the IFTA website www.ifta.ie or contact IFTA on + 353 1 6200812

GUEST PANELLISTS
About Dario Marianelli
Dario Marianelli was born in Pisa, and studied piano and composition in Florence and London.
After a year as a postgraduate composer at the Guildhall School of Music and Drama, where he was also the chairman of the Contemporary Music Society, he received a scholarship from the Gulbenkian Foundation for a course held by Judith Weir and Lloyd Newson at Bretton University College, on the subject of Composition and Choreography. Other scholarships allowed him to go to Germany for a series of workshops on European Film Music, and to spend three years at the National Film and Television School, from which he graduated in 1997.
Dario has won the Oscar, Golden Globe and Ivor Novello in the Best Original Score category for the award winning Working Title film Atonement, for which he was also BAFTA nominated. He was also nominated for a Classical Brit, in the Soundtrack Of The Year category for Atonement.  In 2006 he was nominated for an Oscar in the Best Original Score category for his music for the BAFTA award winning Working Title feature film Pride & Prejudice.  This score has won him the coveted 'Classical Brit' award in the Soundtrack/Musical Theatre Composer Of The Year category and has also earned him an Ivor Novello Award nomination.
Dario's screen credits include: Agora (Alejandro Amenábar), Everybody's Fine (Kirk Jones), Hippie Hippie Shake (Beeban Kidron), The Brave One (Neil Jordan), Far North (Asif Kapadia), Atonement (Joe Wright), Goodbye Bafana (Bille August), The Brother's Grimm (Terry Gilliam), Shooting Dogs (Michael Caton-Jones), The Warrior (Asif Kapadia), I Went Down (Paddy Breathnach) and Pandemonium (Julian Temple).
About Maggie Rodford
Maggie Rodford is Managing Director of the Air-Edel Group, incorporating one of the world's leading music publishing and production companies, representing composers worldwide.  The company has offices in London and Los Angeles.
Maggie studied music, playing piano and 'cello and singing in many choirs including the BBC Chorus.   Maggie trained as a music engineer and prior to joining Air-Edel worked at both the BBC and EMI.  Maggie works closely with Air-Edel's composers, producing and co-ordinating music recordings.  She was the music producer for the French and Flemish cast recording of the musical 'Tintin – The Temple of the Sun' and has also worked as music producer, co-ordinator and supervisor on many prolific films scores including Atonement, Gosford Park, Bridget Jones Diary, Gladiator, The Lion King, Beyond the Sea, Copying Beethoven, Pride & Prejudice, Harry Potter and the Goblet of Fire, Eragon, Miss Potter, Igor, The Soloist and Agora amongst other projects.
Maggie served as a PRS Director for fourteen years (1986-2000) and for many of those years she was an active member of the PRS Executive Committee, she is currently a member of the BAFTA Council film committee.
About Becky Bentham
Becky entered the music industry 20 years ago working at the Performing Rights Society before moving into audio post-production at Goldcrest Films and Roger Cherrills in Soho.  Becky then travelled to Australia where she managed post-production audio facilities in Sydney.
On her return to the UK in 1992 Becky established herself as a Music Supervisor and Composer Agent at Air-Edel Associates until 2002, when Becky and her business partner Karen Elliot set up Hothouse Music Ltd which burst onto the scene securing its position as the Europe's leading Composer Agency and Music Supervision Company.
Becky's extensive list of composer clients includes Hans Zimmer, James Newton Howard, Harry Gregson Williams, Angelo Badalementi and Gabriel Yared. After 15 years working closely with Composers, Directors and Producers, handling all aspects of music production for feature film, Becky's knowledge of this industry is second to none.
Becky's reputation as a first-rate music supervisor is established not only in the UK but also in the USA where clients include Universal, Warner Bros, Dreamworks C20 Fox, Sony, Weinstein Company and HBO.
Responsibilities on projects include; budget control, composer selection, contract negotiations, track research, track clearances, selection of music team (musicians, studios, orchestrators, conductors, programmers, copyists, music editors and engineers etc), session attendance, securing soundtrack deals etc – handling all aspects of Music Supervision from pre-record stage through scoring to final delivery of music.
Becky has experience of score recording throughout the UK and Europe and a wealth of experience in source music clearances using her broad knowledge of popular and classical music to work with Directors and Producers to choose appropriate material both artistically and financially.
Projects which illustrate her expertise include the recent feature films  Mamma Mia!, and The Edge of Love, La Vie en Rose for which she won a Czech Lion Awardin 2008, John Madden's Shakespeare in Love, Ridley Scott's Kingdom of Heaven and Christopher Nolan's Batman Begins & The Dark Knight.
About Kirsten Sheridan
Kirsten Sheridan was born in Dublin, Ireland. She studied Film Television Production at University College Dublin before completing a Diploma in Film Production at Dun Laoghaire College of Art Design, Ireland's national film school, graduating with Distinction.
Kirsten has directed five short films starting with the FilmBase/RTÉ short script award, The Bench (1995). She co-produced, wrote directed Patterns (1998), and directed The Case of Majella McGinty, both of which won many international film festival awards including; Clermont-Ferrand, Cork, Galway, Dresden, Aspen, and Chicago. Her first feature length screenplay Honor Bright won the Miramax Best Irish Screenplay Award '98.
In 2000, Kirsten directed her first feature film, Disco Pigs (Cillian Murphy - Temple Films/Renaissance Films/Entertainment UK) and, as a result, was nominated for Best New Director at the British Independent Film Awards and the Irish Film TV Academy Awards, and she won the United International Pictures Best Director 2002 award. #
In 2003 she co-wrote the original screenplay for the critically acclaimed, autobiographical In America (2004) for which she received an Academy Award Nomination.In the Best Screenplay category it won the National Board of Review, The Christopher Award, and the Broadcast Critics Awards 2004.
In 2007, Kirsten completed her US feature film debut, August Rush which starred Jonathan Rhys Meyers and Keri Russell. Kirsten lives and works in Dublin, Ireland where she has her own film production company 'Blindside Films' and is the mother of two small children.
She is currently working on Some Rain Must Fall, That Was the Sky and Faith.
About Stephen McKeon
Stephen mckeon has been writing music for Film and Television for over 16 years. Beginning in 1995 with the award winning feature film Korea he has gone on to score over 40 films and numerous international television dramas and documentaries. He was the recipient of the 2006 IFTA for his score for John Boorman's The Tigers Tail.
In 2008 he scored the animation feature Niko and the Way to the Stars (Winner Jury and Audience Award CINEKID INT. FILM FESTIVAL AMSTERDAM), the UK feature Summer (Winner Scottish BAFTA, Best Film, Best Director,), Series 6 of The Clinic as well as a number of major UK television drama productions including four Poirot films and the thriller Wired. He has recently completed scoring the Irish feature Savage and series 7 of The Clinic. He lives in county Wicklow.
About David Collins
David Collins founded Samson Films in 1984. His production credits include some of the most significant films of the last 20 years including Pigs (Cathal Black), Eat the Peach (Peter Ormrod), I Went Down (Paddy Breathnach – as Executive Producer). Recent credits include Cairo Time (2008), Little Foxes (2008), Eden (2007), Once (2006) Winner of Oscar for Best Song. True North (2006), Asylum (2005), Blind Flight (2005), The Honeymooners (2004). David also runs Accomplice Television. Accomplice credits include Bachelors Walk, Pure Mule and Dan and Becs.
About Robert Walpole
Robert Walpole established Treasure Films with director Paddy Breathnach to develop and produce fiction and documentary film. In 1993 he produced the ninety‐minute feature documentary The Road to America, which became the best‐selling Irish produced sell‐through film ever. In 1995 he produced the forty‐minute drama The Long Way Home, WRH, a six‐part series for RTE on daily life in a general hospital, Home, a six‐part fly on the wall series for RTE about people in different situations looking for a place to live, and The Charlton Years, the story of Jack Charlton's tenure as manager of the Irish soccer team.
Walpole's first feature I Went Down premiered at the Cannes Film Festival in May 1997 and won four awards at the San Sebastian Film Festival in September 1997. I Went Down was selected for the World Cinema Section at the Sundance Film Festival in January 1998. Following Sundance the film was picked up by US distributors The Shooting Gallery and was premiered in New York in June 1998.
He then went on to produce Southpaw, a feature documentary that tells the extraordinary of a member of the marginalised Irish travelling community who represented Ireland at the Atlanta Olympics; Saltwater, which was written and directed by Conor McPherson; Man About Dog (directed by Paddy Breathnach and starring Allen Leech, Pat Shortt, Sean McGinley and Fionnula Flanagan); The Mighty Celt, starring Robert Carlyle and Gillian Anderson; and Shrooms (directed by Paddy Breathnach).
Rob most recent production The Eclipse, written and directed by Conor McPherson which won the award for Best Actor at the Tribeca Film Festival 2009 for Ciaran Hinds performance. The film picked up at the by Magnolia Films who will release it in theatres across the US this Autumn. Rob has sat on the Executive Committee of Screen Producers Ireland and also acts as mentor for various teaching and training agencies, including Moonstone, UCD Film School and the Huston School of Film. Last year he completed an MA in Screenwriting at the National Film School, IADT Dun Laoghaire.
About Derek Gleeson
Gleeson is the Music Director and Conductor of the new Dublin Philharmonic Orchestra, which just completed its inaugural 49 city tour of the United States, under the auspices of Columbia Artists Management, Inc.
Gleeson was educated at the Royal Academy of Music (London), the Hochschule fur Musik (Vienna), and the University of California at Los Angeles (UCLA).  As a freelance orchestral musician, Gleeson performed with most of the British orchestras, including the London Symphony Orchestra, the BBC Orchestras, the Bournemouth Symphony Orchestra and the Chamber Orchestra of Europe
As conductor, Gleeson has conducted the London Philharmonic Orchestra, the RTE National Symphony Orchestra, the RTE Concert Orchestra, Orchestra Da Camera Fiorentina (Italy), the Brohuslav Martinu Philharmonic, Karlovy Vary Symphony Orchestra, and Philharmonic Orchestra Hradec Kralove (Czech Republic), RTL Orchestra (Luxembourg)  and the Los Angeles Composers Guild Chamber Orchestra (U.S.A.) amongst others. Gleeson's opera repertoire includes performances of Verdi's La Traviata, Il Trovatore, Rigoletto, and Un Ballo in Maschera,Mozart's La Nozze di Figaro, Don Giovanni, and The Magic Flute, Bizet's Carmen, and Tchaikovsky's Eugene Onegin. In September 2008, Gleeson conducted Rigoletto for the Anna LiviaDublin International Opera Festival. 
Gleeson's movie scores include the feature films The White Pony (Brian Kelly), Irish Whiskey (Jon Stevens), Moving Target (Paul Ziller), The Doorway (Michael Druxman), Kitchen (KieronWalsh).  In addition to composing music for film, Gleeson is Director of Screen Training Ireland/Ceoil Productions Ireland's Film Scoring Programme. He has served as Composer Advisor to Moonstone International and also as Music Jury Chairman of the Irish Film & Television Awards (IFTA).