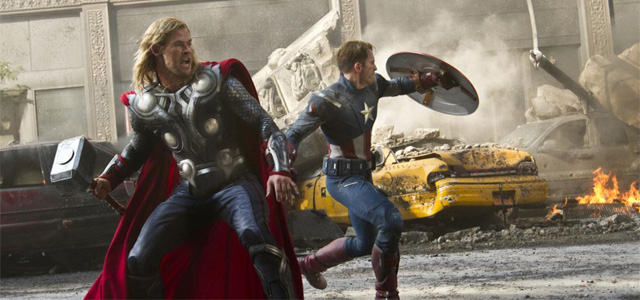 SEAMUS McGarvey at the darklight film festival
TWO MAJOR EVENTS WITH AWARD WINNING IRISH CINEMATOGRAPHER

EVENT DETAILS

Seamus McGarvey at Darklight 2012
24 & 25 August

Contact info:
+ 353 1 6624120

membership@ifta.ie


Darklight Film Festival events in association with FÁS Screen Training Ireland and the Irish Film & Television Academy

Acclaimed Irish cinematographer Seamus McGarvey (The Avengers, Anna Karenina, We Need to Talk About Kevin) drops into town during the 2012 Darklight Film Festival (23 - 26 August) for a double whammy of special events.


Avengers Assemble Masterclass in Visual Effects
"From Shooting to Computing"
With Seamus McGarvey (DOP) & Jake Morrison (VFX Supervisor, Marvel), presented in association with FAS Screen Training Ireland

Seamus McGarvey and Jake Morrison, key members of the team behind the multi-billion dollar hit, Avengers Assemble, talk through the technical and creative processes behind the third highest grossing film of all time.
From prep to shoot: How to ensure the best possible results for the post production stage of the production. Shooting 2D for 3D, working on in-camera effects, filming green screen, lighting, 360 tracking shots, plus the best ways to prep for high end VFX.
Seamus and Jake will bring us through the special relationship of the DP and VFX Supervisor. Taking scenes from the film, they will walk through how they came to their creative decisions, trouble shoot technical problems, talk about solutions and workarounds. How, often the same problems arise when shooting on a mega budget, as do on lower budget films, and finding the solutions can be the same.
The Masterclass will be hosted by Award winning Cinematographer PJ Dillon (The Runway, Her Mother's Daughter, 32A), who recently premiered retro Sci-Fi film Earthbound.
In Conversation with ... Seamus McGarvey, presented in associaion with the Irish Film & Television Academy (IFTA) - facilitated by Kieron J. Walsh
A rare opportunity to hear Seamus talk about his creative process as a cinematographer, perfect for film fans who want to gain an insight into the filmmaking experience from a less technical point of view. Seamus will take part in an in-depth discussion about his work on titles such as We Need To Talk About Kevin, Atonement, and the soon to be released Anna Karenina.
The common theme that connects the entire Darklight programme this year is creative collaboration and the symbiotic relationships that exist between directors and cinematographers, musicians, animators, VFX supervisors and developers.
Tickets for In Conversation With... available from www.entertainment.ie and more info on Masterclass on www.darklight.ie / www.screentrainingireland.ie
Darklight Film Festival events in association with FAS Screen Training Ireland and the Irish Film & Television Academy (IFTA) with the support of Bord Scannán na hÉireann/the Irish Film Board.

Twitter: @ifta
Facebook: www.facebook.com/iftaonline
IFTA E-news: ezine@ifta.ie