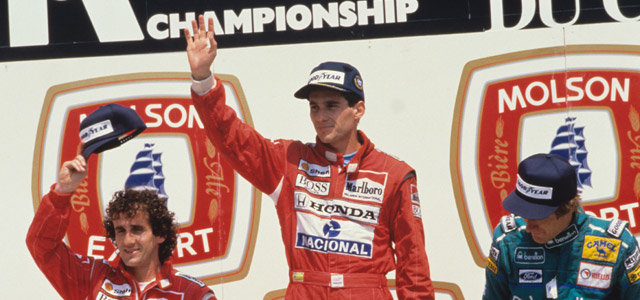 SENNA PREVIEW SCREENING PLUS DRINKS RECEPTION
WIN TICKETS TO A preview screening WITH BULMERS DRINKS RECEPTION
event DETAILS
When:
31st May @
5.30pm (pre-reception)
6.30pm (screening)

Where:
Irish Film Institute (IFI) 6 Eustace Street, Temple Bar, Dublin 2

All seating is unreserved

Running Time:
105mins

Contact info:
+ 353 1 6624120
membership@ifta.ie

Universal Pictures International Ireland

Be in with a chance to win tickets to the preview screening of Senna, the heartbreaking true story of Formula 1 star Ayrton Senna, on Tuesday May 31 at the IFI Dublin. This special preview screening will be preceded by a drinks reception sponsored by Bulmer's.
ENTER THE IFTA COMPETITION
Simply answer the following question:
In what year did Aryton Senna begin driving in Formula One?

Send your answer to membership@ifta.ie with "Senna Competition" in the subject line no later than 12 noon Friday 27th May.
This competition is open to IFTA Members only.
If you are not a member click here to find out how to join.
ABOUT SENNA

Senna's remarkable story, charting his physical and spiritual achievements on the track and off, his quest for perfection, and the mythical status he has since attained, is the subject of Senna, a documentary feature that spans the racing legend's years as an F1 driver, from his opening season in 1984 to his untimely death a decade later. Far more than a film for F1 fans, Senna unfolds a remarkable story in a remarkable manner, eschewing many standard documentary techniques in favour of a more cinematic approach that makes full use of astounding footage, much of which is drawn from F1 archives and is previously unseen.
Senna is made with the full co-operation of Ayrton Senna's family, who have given permission for this to be the first documentary feature film about his life; Formula One, who gave permission to use previously unseen footage; and the Ayrton Senna Institute, the charitable foundation established after his death, which provides educational opportunities to millions of deprived Brazilian children.

To view the trailer for Senna click here
To read an LA Times review of the film click here
Notes:

IFTA will contact the lucky winners by 5pm Friday 27th May. If you don't hear from us by then you have not won tickets this time around.

The reception is strictly over 18s.

For more details & competitions don't forget to follow IFTA:
Twitter: www.twitter.com/ifta
Facebook: www.facebook.com/iftaonline
Senna cert 12a is released in Ireland June 3rd