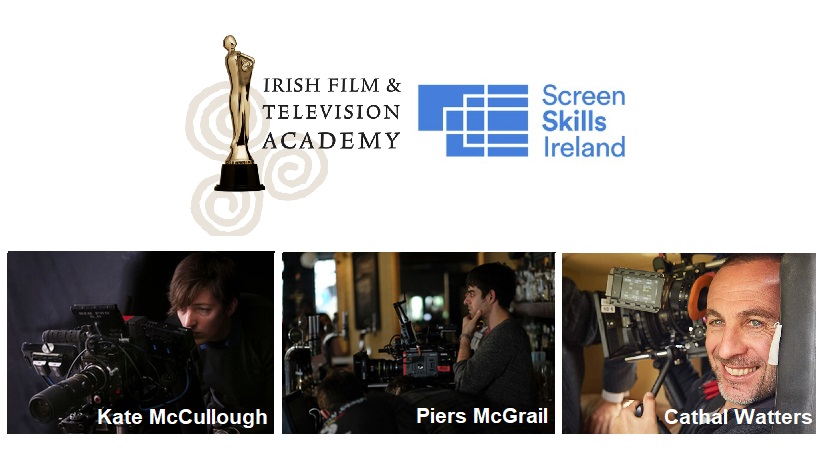 SKILLS IN FOCUS: CINEMATOGRAPHY - EXCELLENCE IN THE CRAFT
The Irish Film and Television Academy (IFTA) supported by Screen Skills Ireland presents Cinematography - Excellence in the Craft as part of the IFTA Skills in Focus Series. These FREE online panels provide unique insight into the craft and techniques of leading filmmakers. The next three events focus on Cinematography, Documentary and Debut Feature Film Directing.
Cinematography: Excellence in the Craft, will examine the process of some of Ireland's leading cinematographers. Ireland is host to world-class cinematographers who have earned their place on the world stage, consistently working on high-calibre international film and television projects.
Celebrated DoPs Piers McGrail, Kate McCullough and Cathal Watters will share their experiences, insight and knowledge in demonstrating excellence in the art of cinematography. The panel will be moderated by award-winning director Ian Power (The Runway, The Tattoo.)
Collaboration process - Designing a visual style with the Director

Lighting and camera techniques for specific narrative projects

Camera and lens decisions and technology

3 Key points to achieving Success.

Meet the Panelists
Piers McGrail

Piers McGrail has recently delivered outstanding work on three of Ireland's most celebrated films: Never Grow Old, which earned him a Nomination for Best Cinematography at the 2020 IFTA Film & Drama Awards, and Ordinary Love, Calm With Horses, both of which have been nominated for Best Film 2020. Previous credits include Lorcan Finnegan's debut, Without Name, Juanita Wilson's Tomato Red, Gerard Barrett's Glassland, and the BBC miniseries, Little Women.

Kate McCullough

Kate McCullough earned an IFTA nomination for Best Cinematography for her work on Tom Sullivan's Cine4 Famine drama, Arracht. McCullough's recent projects Blood and I, Dolours have both been nominated for Best Drama and Best Feature Documentary respectively. Recently Kate was DoP on Element Pictures' Emmy-nominated drama Normal People and previous work includes Emer Reynold's Emmy-winning documentary, The Farthest.

Cathal Watters

Cathal Watters received an IFTA nomination for his work on the the highly-acclaimed Rosie. Working across both film and television Watters has delivered memorable imagery in films such as Finky, Dark Lies the Island, Handsome Devil, Papi Chulo, A Dark Song and VIVA. His TV work includes the hit BBC series Peaky Blinders, as well as Taken Down, Finding Joy and An Klondike.

Ian Power (Moderator)

Ian Power is an Irish Film Director, Screenwriter, and one of Ireland's leading Commercial Directors. His Comedy Drama Feature The Runway, a comedy drama starring Demián Bichir and Kerry Condon, won IFTA Awards for Best Film and Best Director. More recently he wrote and directed the short film The Tattoo, which collected numerous awards including the Light in Motion Award at the Foyle Film Festival.

This will be an online Zoom Event - You will be sent the Zoom Access Link by email