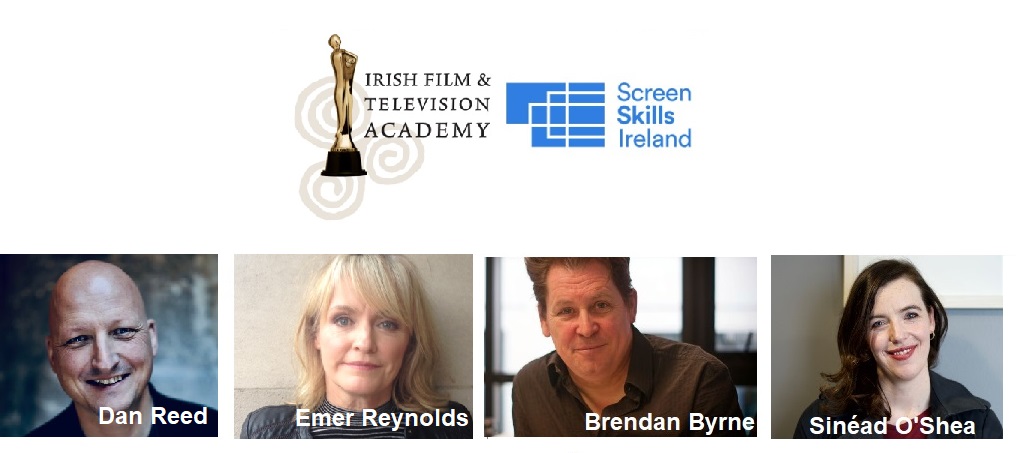 IFTA SKILLS IN FOCUS: DOCUMENTARY - Excellence in the Craft
The Irish Film and Television Academy (IFTA) supported by Screen Skills Ireland presents Documentary - Excellence in the Craft as part of the IFTA Skills in Focus Series. These FREE online panels provide unique insight into the craft and techniques of leading filmmakers. The next three events focus on Cinematography, Documentary and Debut Feature Film Directing.
The Award-winning Documentary Panel will share the specific skill set required to make top-level documentaries.
The Documentary Panel of Emmy-winning UK Director/producer Dan Reed (Leaving Neverland, Terror in Mumbai, The Valley); Emmy-winning producer/director Emer Reynolds (The Farthest, Phil Lynott Songs For While I'm Away); Award winning director/Producer Brendan Byrne (Bobby Sands: 66 Days, Gaza, No Stone Unturned); and Sinéad Ó Shea whose debut feature-length documentary A Mother Brings Her Son to be Shot has earned rave reviews and was nominated at CPH: DOX will share the specific skill set required to make top-level documentaries. 
Choosing the right project for the right Audience

Researching & fact checking & Archive footage.

Importance of Script - Finding the narrative in the facts

Editing, Music & Tone

3 Key points to achieving Success.
Meet the Panellists
Dan Reed
Long known in the UK, Dan Reed came to worldwide prominence last year with his devastating portrait of sexual abuse in Leaving Neverland: Michael Jackson and Me. The two-part Channel 4/HBO film won a Primetime Emmy and a BAFTA and was widely hailed by viewers and critics as a forensic examination of the long term trauma of sexual abuse. In recent years, he has explored complex stories of trauma through intimate personal testimony in Terror at the Mall (Bafta nominee), Terror in Mumbai (Bafta TV Winner) and Terror in Moscow (Bafta nominee) as week as observational documentary The Paedophile Hunter which won two BAFTAs and a Grierson award for its portrait of vigilante Stinson Hunter.

Emer Reynolds
Emer Reynolds is a Grierson-nominated, multi-IFTA winning, and Emmy-award winning feature documentary director. Her Emmy and IFTA-winning feature documentary The Farthest, about the incredible journey of the Voyager spacecraft, made its international premiere at the Tribeca Film Festival; and won an Emmy Award. Here Was Cuba her documentary directorial debut was nominated for a Grierson Award. She is currently in post-production on Phil Lynott: Songs for While I am Away about the life and music of the Thin Lizzy Frontman.

Brendan Byrne
Brendan Byrne has been making high end documentaries for both BBC Television, C4 and more for over 20 years, including his Royal Television Society (RTS) winning documentary Breaking The Silence about families coping in the aftermath of suicide. He directed Bobby Sands: 66 Days which set a record for the highest-grossing opening weekend for an Irish documentary film. Recently he has produced the film Gaza which was Ireland's submission for The Best International Film at the 2020 Oscars as well as No Stone Unturned directed by Alex Gibney.

Sinéad O'Shea
Sinéad O'Shea, a renowned journalist who has worked For Al Jazeera English, Channel 4, The Irish Times, The New York Times and The Guardian, is the director of A Mother Brings Her Son to Be Shot which she filmed over five years. The film was nominated for the Fact Award at CPH:DOX, the Maysles Observational Documentary Award at Belfast, and Best International Documentary at EBS in Korea. O'Shea also represented the UK and Ireland as one of Europe's top 10 female filmmakers at the Sydney Film Festival.

This will be an online Zoom Event - You will be sent the Zoom Access Link by email