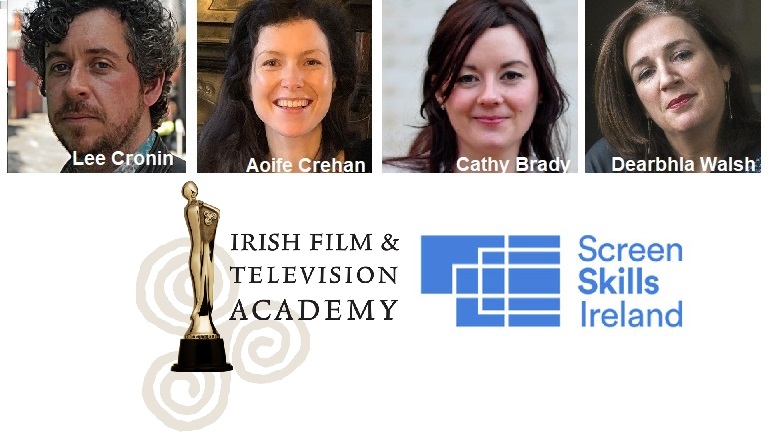 IFTA SKILLS IN FOCUS SERIES: Debut Feature Directing - Excellence in the Craft
The Irish Film and Television Academy (IFTA) supported by Screen Skills Ireland presents Debut Feature Film - Excellence in the Craft as part of the IFTA Skills in Focus Series. These FREE online panels provide unique insight into the craft and techniques of leading filmmakers.
Debut Feature Film: Excellence in Craft will focus on sharing the skills and expertise developed by 4 Directors whose first film has, not only demonstrated exceptional skill and filmmaking talent on the part of the director, but also has shown the necessary techniques and methodology in transitioning successfully from short film to feature film. These skills and methodologies will be outlined in detail by our panellists for attendees to aid in their training.
Directors Lee Cronin (The Hole in the Ground), Cathy Brady (Wildfire), and Aoife Crehan (The Last Right) discuss their first films with moderator Dearbhla Walsh (The Handmaid's Tale) and the necessary techniques and methodology in transitioning successfully into feature filmmaking. These skills and methodologies include:
Planning your First Feature (Prep, funding, shooting schedule, key talent)

Transitioning your Skills from Short Film Making to Feature Film.

Problem-solving the challenges that arise.

3 Key points to achieving Success.
Meet the Panellists
LEE CRONIN
Lee Cronin is an Irish film writer and director. He is best known as the co-writer/director the 2019 horror film The Hole in the Ground which premiered at Sundance and for which he is nominated for best director at the 2020 IFTA Film and Drama Awards. He initially made waves with the 2014 Méliès d'Argent award-winning short Ghost Train, and he is set to write and direct the next film in the Evil Dead series called Evil Dead Rise.

AOIFE CREHAN
Irish film-maker Aoife Crehan has worked in the business for more than a decade. Last year, her debut feature, The Last Right, starring Niamh Algar, Michiel Huisman, Samuel Bottomly, Colm Meaney and Brian Cox, Won the Audience Award at the Cork International Film Festival, before releasing across Ireland and the UK. Previous to this she wrote and directed two Short Films Empty and The Two Peas.

CATHY BRADY
Cathy Brady is a two-time IFTA-winning director, for her short films Small Change and Morning. Recently she was the sole director of Stefanie Preissner's series Can't Cope, Won't Cope for RTE/BBC3/Netflix. Cathy's debut feature Wildfire, which she wrote and directed, has been selected for Toronto Film Festival 2020. Cathy was recently selected as one of The Irish Times's '50 People to Watch.'

DEARBHLA WALSH (MODERATOR)
Dearbhla Walsh is an award-winning director who has worked on drama series including most recently Tales from the Loop, The Handmaid's Tale, EastEnders, Shameless, Penny Dreadful, The Tudors and the Netflix Marvel series The Punisher. She won the 2009 Primetime Emmy Award for Outstanding Directing for a Miniseries, Movie or Dramatic Special for Little Dorrit. Walsh has been nominated for the Irish Film and Television Awards eight times and won twice for directing in 2011 and 2018 respectively.

This will be an online Zoom Event - You will be sent the Zoom Access Link by email