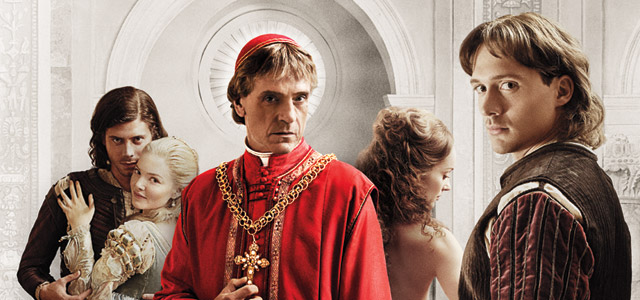 THE BORGIAS FIRST LOOK PREVIEW PLUS Q&A
FIRST LOOK preview screening plus q&a with CREATOR/DIRECTOR nEIL JORDAN AND PRODUCER JAMES FLYNN
event DETAILS



When:
3 May 2011

Where:
Irish Film Institute (IFI), 6 Eustace Street, Temple Bar, Dublin 2

All seating is unreserved

Contact info:
+ 353 1 6624120
membership@ifta.ie

With thanks to Neil Jordan, James Flynn and Octagon Films.

The Irish Film & Television Academy is delighted to present the first in a new series of IFTA screenings in the IFI - 'First Tuesdays'. Each month IFTA will host a screening of exciting new Irish work on the first Tuesday of the month.
The IFI will have a special offer in place for IFTA members: after the screening, show your IFTA membership card to IFI Café Bar staff and enjoy a platter from their menu to share and a bottle of house red or white wine for the special price of just €25.*

The inagural First Tuesday presentation will be, The Borgias a Preview Screening plus Q&A with creator/director Neil Jordan and producer James Flynn.
Starring Jeremy Irons, The Borgias premiered on America's Showtime network on Sunday, April 3rd to Showtimes's highest ever rating figures for an opening pilot in eight years. The first two episodes of the series launched and introduced the story of the hugely influential and notorious 15th century Italian Borgias dynasty.

The Borgias is an official Irish/Canadian co-production shot in Hungary. It will be screened here on Sky Atlantic during the summer and stars Jeremy Irons, Joanne Whalley, Holliday Grainger and Francois Arnaud.
ABOUT CAMELOT

He's an outsider, a long shot, going up against the most powerful and established families in 15th century Italy. But through masterful political shenanigans, Rodrigo Borgia rises to the most venerated position in Italy, perhaps the Western world.

He is now Pope Alexander VI. Together with his sons and infamous daughter, they become one of the most remarkable and legendary families in history - inspiring Machiavelli's The Prince and Mario Puzo's The Godfather.

Comprising a hair-raising Renaissance-era crime blog of intrigue, corruption, murder, power-play and perversion, their sordid family saga serves as the backdrop for creator/executive producer/writer Neil Jordan's definitive and eventful new Showtime series The Borgias.

Starring Academy Award® winner Jeremy Irons as the family patriarch Rodrigo Borgia, who bribes, buys and muscles his way into the Papacy, The Borgias is set in one of the most significant periods in history: the Western Renaissance and the discovery of the New World. Contemporaries of da Vinci, Michelangelo and the Medicis, the Borgias were controversial and heretical, not so much for performing acts unheard of in their time, but for being better at it than their enemies. Along the way, they committed virtually every sin in the book and invented more than a few of their own.
ABOUT NEIL JORDAN - CREATOR/WRTER/EXECUTIVE PRODUCER/DIRECTOR

Neil Jordan was born in 1950 in Sligo, Ireland and began his career as a writer. His first book of stories, Night In Tunisia (1976) won the Guardian Fiction prize. Since then he has published five novels, The Past (1979), The Dream Of A Beast (1983), Sunrise With Seamonster (1994) and Shade (2005). His most recent novel, Mistaken, will be published in 2011.

In 1982, Jordan wrote and directed his first feature film, Angel. Since then he has written, directed and produced 15 films, including Company Of Wolves, Mona Lisa, The Crying Game, Interview With The Vampire, The End Of The Affair, The Butcher Boy, Breakfast On Pluto, The Good Thief and, most recently, Ondine. His films have been honored with numerous awards worldwide, including an Oscar®, IFTA's, BAFTAs, Golden Globe®, a Golden Lion from The Venice Film Festival and a Silver Bear from Berlin.

ABOUT JAMES FLYNN - EXECUTIVE PRODUCER
James Flynn is an independent producer and principal of Octagon Films, based in Ardmore Studios, County Wicklow, Ireland. He served as one of the producers of Showtime's The Tudors seasons one though four.

In addition to two Academy® Award nominated projects during 2010 - the Juanita Wilson directed short The Door and the animated fantasy adventure The Secret Of Kells - Octagon's recent production credits include As If I Am Not There, directed by Juanita Wilson (Toronto Selection 2010); Ondine, directed by friend and colleague Neil Jordan (Tribeca and Toronto 2009/2010); and Love/Hate by Stuart Carolan and David Caffrey, being sold internationally by ITV Global.

Previous feature films produced by Flynn include Nora, starring Ewan McGregor, Universal's Inside I'm Dancing (2004 Winner at Edinburgh Film Festival, 2005 IFTA Winner and 2005 Official Selection at Sundance) and Dorothy Mills for Fidelite Films.

* Please note – this offer is not available in conjunction with any other IFI offer.