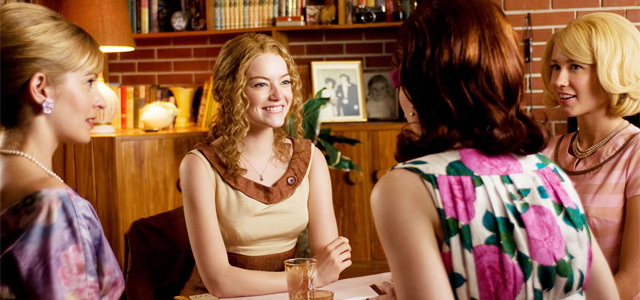 IRISH PREVIEW SCREENING OF THE HELP
a preview screening of the eagerly anticipated big screen adaptation of Kathryn Stockett's best selling novel The Help.
event DETAILS
When:
24th October 2011
6pm Sharp

Where:

Omniplex Santry
Omniplex Mahon Cork
Omniplex Galway
Omniplex Limerick
All seating is unreserved

Running Time:
146mins

Cert:
12A

Contact info:
+ 353 1 6624120
membership@ifta.ie

With thanks to Walt Disney Studios Motion Pictures
Be in with the chance to win tickets to preview screenings of The Help being held in Omniplex cinemas in Dublin, Limerick, Cork and Galway on Monday 24th of October 2011 at 6pm.

ENTER THE IFTA COMPETITION
Simply answer the following question:
What comic-book adaptation will The Help star Emma Stone appear in alongside Andrew Garfield?

a) The Amazing Green Lantern
b) The Amazing Monkey-Man
c) The Amazing Spider-Man

Send your answer to membership@ifta.ie with "The Help Competition & your selected location" in the subject line no later than 12 noon Thursday 13th of October.
"Omniplex Santry"
"Omniplex Mahon Cork"
"Omniplex Galway"
"Omniplex Limerick"

This competition is open to IFTA Members only.
If you are not a Member click here to find out how to join.
ABOUT THE HELP

Written and directed by Tate Taylor, The Help is set in Mississippi during the 1960s, and stars Emma Stone (star of the breakout hit, Zombieland) as Skeeter, a southern society girl who returns from college determined to become a writer, but turns her friends' lives - and a small Mississippi town - upside down when she decides to interview the black women who have spent their lives taking care of prominent southern families.

Academy Award® nominee Viola Davis (Eat Pray Love) stars as Aibileen, Skeeter's best friend's housekeeper, who is the first to open up - to the dismay of her friends in the tight-knit black community. Despite Skeeter's life-long friendships hanging in the balance, she and Aibileen continue their collaboration and soon more women come forward to tell their stories - and as it turns out, they have a lot to say. Along the way, unlikely friendships are forged and a new sisterhood emerges, but not before everyone in town has a thing or two to say themselves when they become unwittingly - and unwillingly - caught up in the changing times.

The Help has already grossed over $160M at the US box office in its 1st six weeks.

www.thehelpmovie.ie

Notes:

IFTA will contact the lucky winners by 12 noon Monday 17th October. If you don't hear from us by then you have not won tickets this time around.

For more details & competitions don't forget to follow IFTA:
Twitter: www.twitter.com/ifta
Facebook: www.facebook.com/iftaonline
The Help is in cinemas from 26 October 2011.