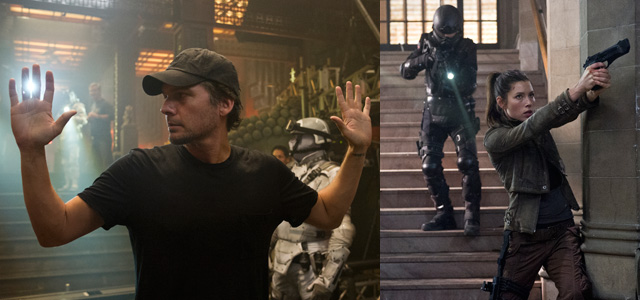 len wiseman - total recall behind the scenes
IRISH FILM & tELEVISION academy panel DISCUSSION EVENT

EVENT DETAILS

Len Wiseman Academy Discussion, Total Recall Behind the Scenes

When:
15th August 2012

Where:
Dublin City Centre location


Contact info:
+ 353 1 6624120

membership@ifta.ie

With thanks to Sony Pictures
Images from this event available in the IFTA Gallery
Audio from this event available here
The Irish Film & Television Academy, with thanks to Sony Pictures, hosted a special Total Recall - Behind the Scenes Panel Discussion with director Len Wiseman in Dublin on Wednesday 15th August 2012.
This Behind the Scenes Discussion will aim to provide an insight into the new science fiction blockbuster Total Recall from both sides of the camera, provided by the film's director Len Wiseman (Underworld).
The director will discuss the rehearsal and shooting process, exploring the director's challenge in shooting a 'reboot', the skills required for directing in the science fiction genre and will take a look at his career, offering advice on working as a director.
ABOUT LEN WISEMAN

Len Wiseman (Director / Executive Producer) started his career in the art department on blockbuster special effects features such as Godzilla, Men in Black and Independence Day. He co-wrote and directed both Underworld and Underworld Evolution and directed Bruce Willis in the action hit Live Free or Die Hard.

Most recently Wiseman directed the Hawaii Five-O pilot and produced the latest installment to the successful franchise, Underworld: Awakening.

EVENT AUDIO


ABOUT TOTAL RECALL
Total Recall is an action thriller about reality and memory, inspired anew by the famous short story "We Can Remember It For You Wholesale" by Philip K. Dick. Welcome to Rekall, the company that can turn your dreams into real memories. For a factory worker named Douglas Quaid (Colin Farrell), even though he's got a beautiful wife (Kate Beckinsale) who he loves, the mind-trip sounds like the perfect vacation from his frustrating life - real memories of life as a super-spy might be just what he needs. But when the procedure goes horribly wrong, Quaid becomes a hunted man. Finding himself on the run from the police - controlled by Chancellor Cohaagen (Bryan Cranston), the leader of the free world - Quaid teams up with a rebel fighter (Jessica Biel) to find the head of the underground resistance (Bill Nighy) and stop Cohaagen. The line between fantasy and reality gets blurred and the fate of his world hangs in the balance as Quaid discovers his true identity, his true love, and his true fate.
Total Recall is released nationwide from 29th August 2012.
View the trailer below and for more information about the film visit www.totalrecall.ie

IFTA MEMBERSHIP


This event is free and exclusive to Members of the Irish Film & Television Academy.
click here for information about Membership eligibility.
Twitter: @ifta
Facebook: www.facebook.com/iftaonline
Signup for IFTA E-news: ezine@ifta.ie