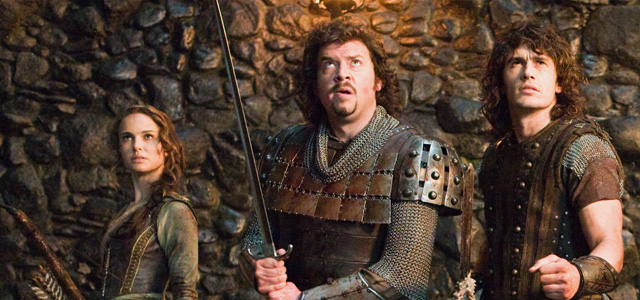 YOUR HIGHNESS PREVIEW SCREENING PLUS Q&A
exclusive preview screening plus q&a WITH DANNY MCBRIDE
event DETAILS
When:
12 April 2011 @ 7PM

Where:
Cineworld, Parnell Street, Dublin 1

All seating is unreserved

Running Time:
102mins

Contact info:
+ 353 1 6624120
membership@ifta.ie

With thanks to Entertainment One

The Irish Film & Television Academy, in association with Entertainment One, is delighted to offer IFTA Members the opportunity to attend an Exclusive Preview Screening of Your Highness, which stars Danny McBride, James Franco, Natalie Portman and Zooey Deschanel.
Danny McBride will be attending the Dublin screening of Your Highness on the 12th April and will be taking part in a special Q&A session afterwards.
Win tickets to a special preview screening of Your Highness, one of the most anticipated comedies this year with a special guest appearance by Danny McBride.
ENTER THE IFTA COMPETITION
IFTA has 20 pairs of tickets to give away to IFTA Members courtesy of Entertainment One.

Simply do the following:

1) Become a follower of IFTA on Twitter or "Like" IFTAs facebook page
(If you're already connected with us skip to step 2!)

Twitter: www.twitter.com/ifta
Facebook: www.facebook.com/iftaonline

2) Answer the following question:
Parts of the film Your Highness were shot in Ireland.
But in which city?

A) Galway
B) Cork
C) Belfast

Entries must be sent to membership@ifta.ie with "Your Highness Competition" in the subject line no later than 5pm Thursday 7th April.

Note: This competition is open to IFTA Members only. If you are not a member click here to find out how to join.
ABOUT YOUR HIGHNESS

The director of Pineapple Express, DAVID GORDON GREEN, invites you to get royally high and mighty with a comedy-adventure set in a fantastical world—
Your Highness.
Throughout history, tales of chivalry have told of handsome knights who rescue fair damsels, slay dragons and conquer evil. But behind many of those heroes is a younger brother just trying to stay completely out of harm's way. DANNY MCBRIDE (Pineapple Express, Tropic Thunder) and JAMES FRANCO (127 Hours, Pineapple Express) are back together as two princes on a daring mission to rescue the heir apparent's fiancée before the Kingdom of Mourne falls into chaos.
Thadeous (McBride) has spent his life in the shadow of his older brother, Fabious (Franco), as the crown prince embarked upon epic journeys to inspire the people of Mourne. But when Fabious' fiancée, Belladonna (ZOOEY DESCHANEL of (500) Days of Summer, Yes Man), gets kidnapped by the evil wizard Leezar (JUSTIN THEROUX of Miami Vice, Charlie's Angels: Full Throttle) in order to fulfill an ancient prophecy, their father gives his deadbeat, hard-drinking son an ultimatum: Man up and help rescue her or get cut off.
Begrudgingly (and half-assedly) embarking upon his first quest, Thadeous joins Fabious to trek across the perilous outlands in search of his brother's one true love. Joined by the mysterious Isabel (Oscar® winner NATALIE PORTMAN of Black Swan, No Strings Attached), a warrior princess with a dark agenda of her own, the princes must vanquish horrific creatures and traitorous knights before they reach Belladonna and save her from a fate worse than death.
As Thadeous reluctantly sets forth on his first quest with Fabious, their loyal menservants—Courtney (newcomer RASMUS HARDIKER), Julie (TOBY JONES of Frost/Nixon, Infamous) and Boremont (DAMIAN LEWIS of television's Life and Band of Brothers)—join them for the adventure. But as they grow to realize no one can be trusted, Fabious and Thadeous must gird their loins for possible betrayal.
If Thadeous can find his inner hero, he earns the respect of his brother and father and prevents destruction of their land. Stay a slacker and he will get front row seats to the dawn of an all-new Dark Ages.
Check out the trailer from the film here

GET READY TO JOIN THEM ON THE BEST. QUEST. EVER FROM WEDNESDAY APRIL 13th