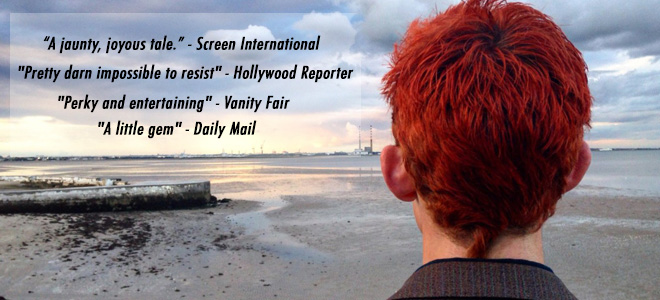 First Look Screening - Handsome Devil
IFTA was delighted to host an exclusive First Look Screening of 'Handsome Devil' followed by Q&A with Director/Writer John Butler (IFTA Winner) at 6.30pm on Monday 12th December in the SAVOY Cinema, Dublin
The Irish Film & Television Academy hosted the first-look screening for its members, followed by a Q&A with John Butler and Donald Clarke of the Irish Times.
Cast members Moe Dunford (Vikings), Amy Huberman (Striking Out) and lead actor Nicholas Galitzine (High Strung) were present for the screening, in addition to Executive Producer Rory Gilmartin, Cinematographer Cathal Watters (Viva) and Treasure Entertainment team Robert Walpole and Rebecca O'Flanagan.
Actors Domnhnall Gleeson (Ex Machina), Clelia Murphy (Fair City) and Eva Birthistle (Swansong) were also in attendance, as were directors Terry McMahon (Patrick's Day) and Ken Wardrop (Mom and Me) and producer Katie Holly (Love & Friendship).
Andrew Scott (Sherlock) also stars in the drama as the nurturing English teacher who encourages the young pair Conor (Galitzine) and Ned, played by Fionn O'Shea (The Siege of Jadotville), to defy the conformity of their rugby-loving boarding school.
his pits him against team coach Pascal, portrayed by Dunford, whose somewhat villainous character is made lovable by a well-struck balance of drama and comedy in Butler's script.
Butler spoke to the audience about the amalgamation of memory and fiction in the boarding school drama, which deals with bullying, gender conformity and sexual identity. He talked through the difficulty of embodying both his sexual identity and fondness of sport as a schoolboy, touching on the lack of openly gay sports players which still prevails today.
Packed house for the #ifta screening of Handsome devil in the Savoy #irishtalent pic.twitter.com/h5gFF6XVbV

— Irish FilmTV Academy (@IFTA) December 12, 2016
In addition he commended the cast of 'Handsome Devil', particularly Fionn O'Shea and Nicholas Galitzine, whose preparation for the roles shows on screen, in a coming-of-age drama which he hopes can work toward re-writing the comedy genre to include LGBT characters young audiences can identify with.
Here's @mrjohnbutler and I discussing his excellent new film HANDSOME DEVIL in Dublin's historic Savoy Cinema. pic.twitter.com/GeMnsqcPxC

— Donald Clarke (@DonaldClarke63) December 12, 2016
John Butler, Writer/Director: "As a forty-something year old guy living in a metropolitan area and working in the arts I think it is very easy to see one's own position and apply it incorrectly to young people. I think the battle is still being fought by every LGBT kid in the world; the world is a better place but it is not a great place and it is dis-improving I would imagine, in light of recent events…There's still no out premiership rugby player, there's no out premiership soccer placer which is insane and highly disproportionate. Those are not imagined barriers these people are facing."
'Handsome Devil' is produced by Treasure Entertainment and will release to Irish cinemas in 2017.
Film synopsis
Unable to convince his widowed father (Ardal O'Hanlon) and chilly stepmother (Amy Huberman) that a boarding school where rugby is a religion is not the place for him, Ned Roche (Fionn O'Shea) braces himself for another term of ridicule, much of it at the hands of his "tormentor in chief," Weasel (Ruairi O'Connor). A scrawny, self-styled 16-year-old rebel with dyed red hair and a room decorated with Bowie lyrics and Dita Von Teese pinups, solitary Ned's ambiguous sexuality makes him a target for gay slurs from his tribal classmates.
When transfer student Conor (Galitzine) is assigned as his new roommate, the mismatch portends extreme discomfort. A melancholy hunk with bee-stung lips and a stellar record on the rugby field, Conor left his previous school under a cloud. Believing that cohabiting with the enemy will only make his school life more hellish, Ned erects a "Berlin Wall" down the middle of the room, attempting to keep to himself. But the new boy has his own issues, causing him to feel alone in the flock, and his shy efforts to reach out eventually give Ned an unaccustomed taste of friendship and acceptance.
The film stars this year's Best Actor IFTA winner Moe Dunford ('Patrick's Day'), Andrew Scott ('Spectre'), Amy Huberman ('The Stag'), Norma Sheahan ('The Clinic'), Michael MacElhatton ('Perrier's Bounty') and Hugh O'Conor ('Pilgrimage'). Louise Kiely casted the film.
With thanks to Treasure Entertainment