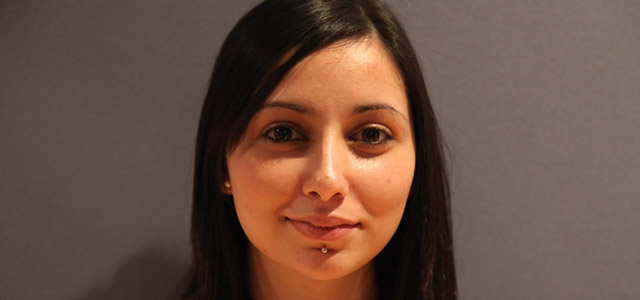 EMMA BUTT - INTERVIEW
9th Annual Irish Film & Television Awards
11th February 2012
9:40pm RTÉ One

Emma Butt has been working as a recordist and sound editor for over five years. In that time she has worked on such shows as 'Punky', 'Raw', 'Trivia' and films like 'Death of a Superhero'. Emma is nominated this year for an IFTA in the new TV craft category for sound. IFTA talked to Emma about her nomination, her favourite parts of her job and what it was like to work on children's show 'Punky'.

IFTA talked to Emma about her nomination, her favourite parts of her job and what it was like to work on children's show 'Punky'.
IFTA- Congratulations on your nomination. How did it feel to be nominated?
Emma Butt- It was a bit surreal to be honest. Punky was my first big project by myself so it was nice to be nominated for the first project that I have done. I really didn't expect it to get nominated. I know it is a really good subject matter, I think it is very educational for kids but I didn't expect it. I know there is a lot of competition up against it like 'Masterchef Ireland'. I just think that is a great show.
IFTA- What do you think of the other shows you are up against?
Emma Butt- I have seen 'Masterchef Ireland' but I haven't seen the other two shows I am up against. I just think 'Masterchef Ireland' is a really good format and I am addicted to it when it is on. It's brilliant. To be honest I think that has a really good chance of winning. I know Trevor Cunningham who is nominated for it; he is a former Pulse college student like myself, so there is a bit of Pulse rivalry going on there. (Laughs)
IFTA- What was it like to work on 'Punky'?
Emma Butt- It was a very different experience because obviously the main character has Down's syndrome and the girl who plays her has Down's syndrome. Amy had never done any voice-over work at all. The way the team chose the voice-over artist was they went to Down's syndrome Ireland and asked for recommendations of people and they got Amy and another girl. Amy was just brilliant; she just put so much energy and character into it. Working with her was quiet difficult at times because she is not used to doing voice-over work; she is not an actor and this was her first time going into the studio but I think after the first day she just got into the swing of it and it made it a lot easier. Simon Crane, the director, this was his first time directing an animation and he was great to work with; we just had a great laugh on it. We'd come in and chat for about ten minutes and then realise we had work to do. (Laughs)
IFTA-What would you say is the most difficult aspect of your job?
Emma Butt- Well this was my first big project. I did the sound from start to finish. I did the voice records, editing and mixing and I think all of that was really a challenge for me. It was somewhat difficult because it was my first time doing this alone. It was quite a learning experience, making sure everything in it was in sync and trying to figure out what the clients wanted sound wise in the edits; if they wanted it to go up really cartoon like or simple or realistic and that is exactly what they went for. It was challenging at first to know what is in their minds and try and get that across in the sound.
IFTA- On the flipside of that, what is the most satisfying aspect of your job?
Emma Butt- Mixing. I love mixing. I love when everything comes together at the end. It is my favourite part of the process. Just having everything in there, the voice, the music, the sounds effects and mixing it all together and having the final project. It is brilliant.
IFTA- How did you get into sound editing in the first place?
Emma Butt- It was actually when I was in school. I was just trying to figure out what I wanted to do and sound engineering just appealed to me. I always had an interest in music and originally I did want to get into the music side of things, so while I was in Pulse, I did a year of work experience in a venue. It just happened that a runner position came up here and I always had a slight interest in post production; so I decided to explore it more. I had looked up the Screenscene website and I remember looking at their credits and they were working on 'Once' at the time and I just thought it would be the best place for me to learn. Five years down the line I am still here.
IFTA- What are you working on at the moment?
Emma Butt- I working with Monster Animation soon enough; they have a new animation coming out called 'Cosmo', an astronomy show for kids and I will be working on that for the rest of the year. 
Emma is nominated in the new TV craft category for Sound TV. She is nominated alongside Sam Horgan for 'Horslips-Rotha Mór an tSaoil', Trevor Cunningham for 'Masterchef Ireland' and Killian Fitzgerald for 'The Writing In The Sky'. The 9th Annual Irish Film and Television Awards take place in the Dublin Convention Centre on 11th February 2012. They will be broadcast on RTÉ One at 9.40pm GMT on the night.
For further information visit www.ifta.ie or follow IFTA on Facebook and Twitter