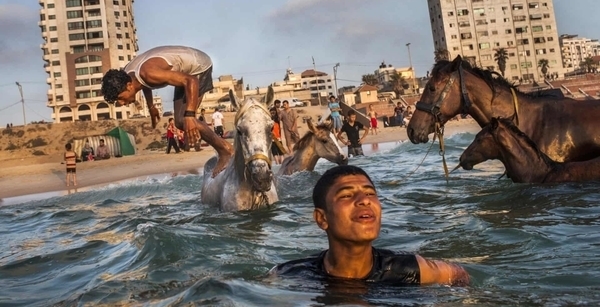 IFTA announces Gaza as Ireland's entry for Oscars 2020
The Irish Film & Television Academy (IFTA) has announced that the feature documentary 'Gaza' has been selected as Ireland's entry for the Oscars' Best International Feature Film category (formerly Best Foreign Language category) at the upcoming 92nd annual Academy Awards.
Gaza, which is predominantly filmed in the Arabic language, is a beautiful and poignant documentary made from inside the Gaza strip and brings the audience into a unique place beyond the reach of TV news reports to reveal the humanity within a world rich with eloquent and resilient characters. The film is a cinematic portrait of a people attempting to lead meaningful lives against the rubble of perennial conflict. This intimate film depicts a people plagued by conflict but not defined by it, and journeys through a physically broken and battered landscape, leaving its diverse cast of real characters speak for themselves.
From co-directors Garry Keane (Deafening, The Writing in the Sky) and award-winning conflict photographer Andrew McConnell, Gaza premiered to critical acclaim at the Sundance Film Festival earlier this year.
This is not the first time Ireland has chosen a film in a language other than its native Irish language for this category, with previous selections including As If I Am Not There (in Serbo-Croatian language) in 2014 and VIVA (in Spanish language) in 2017. Irish language has proved popular through the years with selections including Kings (Irish) 2011, An Bronntanas (Irish) 2015 and Song of Granite (Irish) in 2018.
Gaza was chosen by IFTA's special Selection Committee, which this year included writer/director Neasa Hardiman (Sea Fever, Jessica Jones, Happy Valley), writer/actor Mark O'Halloran (Viva, Garage, Adam & Paul), editor Úna Ní Dhonghaíle (Stan & Ollie, Rosie, The Crown), writer/director Frank Berry (Michael Inside, I Used to Live Here), actress Fionnula Flanagan (The Guard, The Others) and director/producer Tom Collins (Kings, Aithrí (Penance), An Bronntanas). The Committee was chaired by Academy CEO Áine Moriarty.
Speaking about the selection of GAZA, Áine Moriarty – IFTA Academy CEO said:
"These brilliant Irish filmmakers have delivered a very beautiful film and risked their own lives in the process, to capture a very honest, moving and human story from within GAZA, bringing us a rich cinematic portrait of its people."
From Garry Keane & Andrew McConnell, co-directors of GAZA
"It is a huge honour for us that GAZA has been chosen by the IFTA selection committee as the official Irish entry. It was a privilege for us both to share the lives of so many extraordinary citizens of GAZA on the big screen to help promote a deeper appreciation and understanding of this unique and vibrant place. It has truly been a career high, a journey that started at the world famous Sundance Film Festival earlier this year and which could yet end up at the Oscars in Los Angeles."
Gaza was produced by Brendan J. Byrne (No Stone Unturned, Bobby Sands: 66 Days) for Fine Point Films, along with Garry Keane and Andrew McConnell for Real Films and Paul Cadieux (P.S. Jerusalem, The Settlers). It was funded by Fís Éireann/Screen Ireland, Filmoption International, ZDF/ARTE with support from Northern Ireland Screen.
Since its premiere at Sundance, GAZA has been selected for some of the top documentary and film festivals around the world including the Hot Docs Canadian International Documentary Festival, the Virgin Media Dublin International Film Festival and the Docs Ireland festival in Belfast.
The Oscars International Feature Film category was previously called Best Foreign Language Film. During its board of directors meeting in April 2019, the Academy voted to rename the Best Foreign Language Film category to Best International Feature Film. Animated and documentary films are also eligible for the renamed award but require that the majority of dialogue be in a language other than English.
A shortlist of 10 will be announced in December, while the final 5 nominees will be revealed on Monday, January 13th. The 92nd Academy Awards ceremony (the Oscars) will honor the best films of 2019 and will take place at the Dolby Theatre in Hollywood, Los Angeles, California on February 9th 2020.