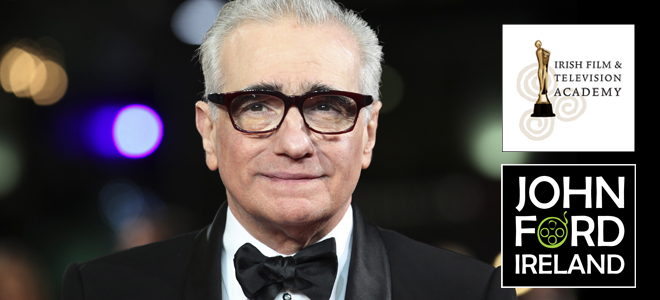 Martin Scorsese in Dublin for IFTA Masterclass and IFTA John Ford Award Presentation
IFTA will host renowned filmmaker Martin Scorsese for Masterclass in Dublin and John Ford Award presentation next weekend
The Irish Film & Television Academy (IFTA) has announced that Martin Scorsese, the legendary filmmaker, will come to Dublin next weekend to hold the IFTA Masterclass with Irish Academy Members and also to receive the prestigious JOHN FORD Award from Ireland and the Irish Academy in tribute to the inspirational and world-renowned Irish-American Filmmaker John Ford. Ford has been a major influence on Scorsese's work. The Award ceremony presentation will take place on Saturday 25th February in Dublin
Speaking about receiving the Academy's John Ford Award, Martin Scorsese said:
"To me and to so many directors, John Ford is a towering figure and continues to be a profound inspiration. His films deftly convey his unique and acute sense of humanity; his deep understanding of people. When I first started watching his films, Ford's force behind the camera was palpable. He was a visionary in the truest form and his films are enriched with artistic energy. I see his films often, studying them and each time I learn something new."
"To be honoured by the Irish Film & Television Academy to receive an award created in celebration of John Ford's artistry and prestige, has great personal significance for me."

IFTA Chief Executive Áine Moriarty said:
"It is a great honour for the Irish Academy to present this John Ford Award to Martin Scorsese, truly one of the world's greatest filmmakers. We thank Martin for his support for the Academy and our work, and for taking the time to share his great knowledge and expertise with our Irish filmmakers here in Dublin – we look forward to a brilliant, inspiring and passionate Masterclass and Discussion with Scorsese at the helm."
IFTA will announce further details of the Award presentation ceremony and special guests next week.
The Irish Film and Television Academy is also working with the University Philosophical Society of Trinity College where Mr Scorsese will speak with the Phil Society Members and he will be presented with the Gold Medal of Honorary Patronage of the Society.
More information on the Masterclass available here
Visit The John Ford Ireland website
About Martin Scorsese
Martin Scorsese is an American director, producer, screenwriter, and film historian, whose career spans more than 50 years. Born in 1942, Scorsese is known for his gritty, meticulous filmmaking style and is widely regarded as one of the most significant and influential filmmakers in cinematic history. Scorsese's body of work addresses such themes as Sicilian-American identity, Roman Catholic concepts of guilt and redemption, faith, machismo, modern crime, and gang conflict. Many of his films are also known for their depiction of violence and liberal use of profanity.
In 1990, he founded The Film Foundation, a nonprofit organization dedicated to film preservation, and in 2007 he founded the World Cinema Foundation. He is a recipient of the AFI Life Achievement Award for his contributions to the cinema, and has won an Academy Award, a Palme d'Or, Cannes Film Festival Best Director Award, Silver Lion, Grammy Award, Emmys, Golden Globes, BAFTAs, and DGA Awards.
He has directed landmark films such as the crime film Mean Streets (1973), the vigilante-thriller Taxi Driver (1976), the biographical sports drama Raging Bull (1980), the black comedy The King of Comedy (1983), the religious epic drama The Last Temptation of Christ (1988), the crime film Goodfellas (1990), the psychological thriller Cape Fear (1991) and the crime film Casino (1995), some of which he collaborated on with actor and close friend Robert De Niro. Scorsese has also been noted for his successful collaborations with actor Leonardo DiCaprio, having directed him in five films, beginning with Gangs of New York (2002) and most recently The Wolf of Wall Street (2013). Their third film together, The Departed, won Scorsese the Academy Award for Best Director in addition to the film winning the award for Best Picture. Their collaborations have resulted in numerous Academy Award nominations for both as well as them winning several other prestigious awards.
Scorsese's other notable films include the concert film The Last Waltz (1978), the black comedy After Hours (1985), the biographical drama The Aviator (2004), the psychological thriller Shutter Island (2010), the historical adventure drama Hugo (2011) and the religious epic Silence (2016). His work in television includes the pilot episode of the HBO series Boardwalk Empire and Vinyl, the latter of which he also co-created. With eight Best Director nominations, he is the most nominated living director and is tied with Billy Wilder for the second most nominations overall.
About John Ford Award
The John Ford Ireland Film Symposium takes place every two years, and is focussed on contemporary filmmaking and filmmakers that have been inspired and informed by the timeless work and craft of legendary Irish-American director John Ford, one of the world's most respected and influential filmmakers. This is a unique event of vibrant discussion, fresh understanding and learning from Ford's mastering of the artform, with special Screenings, Discussions, Masterclasses, Lectures, workshops, Music and Song. The Symposium is a unique gathering of filmmakers, directors, writers, producers, cinematographers, editors, film fans and film historians discussing the craft and all things film. Previous guests and panelists include Clint Eastwood, Peter Bogdanovich, Bertrand Tavernier, Dan Ford, Patrick Wayne, Marissa Wayne, Stephen Frears, Neil Jordan, Jim Sheridan, John Boorman, Kyle Eastwood, John Crowley, Joel Cox, Sean Bobbitt and Whit Stillman.