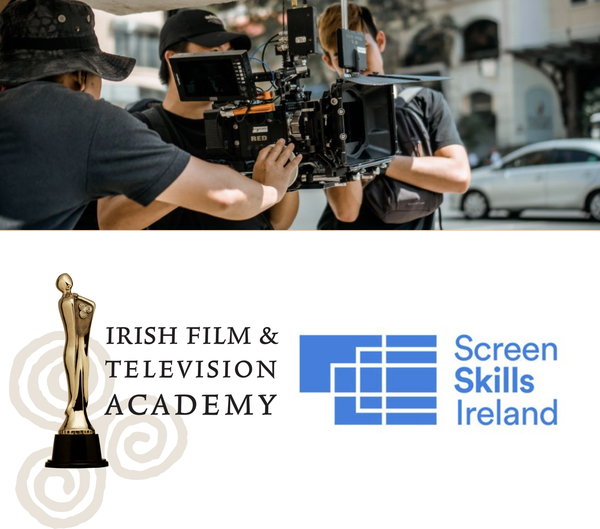 IFTA SKILLS IN FOCUS SERIES
Supported by Screen Skills Ireland
The Irish Film and Television Academy (IFTA) supported by Screen Skills Ireland presents the IFTA Skills in Focus Series, a series of online panel events that provides unique access to Award-Winning Irish talent.
IFTA Skills in Focus

This series will bring together carefully curated panels to focus on the skill and techniques that bring about award-winning work. The participants will be IFTA Nominees and IFTA Winners and represent Excellence in their fields. Ireland has a wealth of screen talent in front and behind the camera, as demonstrated by the incredible talent submitted for IFTA 2020. Through these structured discussion panel events, the Academy will share the experience and practical techniques of Ireland's best filmmakers to help develop and nurture emerging Irish Screen Talent.

You are invited to join us online for the following events.
Please Register Below
Cinematography - Excellence in Achievement
This event will interrogate the process of 4 of Ireland's leading Cinematographers that have worked in Ireland and abroad, with leading international film directors, in creating the look of a feature film/TV Drama across a number of specific training areas. The cinematographers on the panel will have demonstrated excellence in camerawork, composition and understanding of framing and exposure. Skills they share will include:
Collaboration process - Designing a visual style with the Director

Lighting and camera techniques for specific narrative projects

Camera and lens decisions and technology

3 Key points to achieving Success.

Panellists: PIERS MCGRAIL (NEVER GROW OLD, CALM WITH HORSES) KATE MCCULLOUGH (ARRACHT, NORMAL PEOPLE) CATHAL WATTERS (ROSIE, FINKY, DARK LIES THE ISLAND) MODERATOR: IAN POWER (DIRECTOR: THE RUNWAY)

This will be an online Zoom Event - You will be sent the Zoom Access Link by email
Visit the Skills in Focus: Cinematography - Excellence in the craft page
Documentary - Excellence in Craft
The Award-winning Documentary Panel will share the specific skill set required to make top-level documentaries. Topics include:
Choosing the right project for the right Audience

Researching & fact checking & Archive footage.

Importance of Script - Finding the narrative in the facts

Pros & Cons of Drama Doc & Re-enactment segments

Editing, Music & Tone

3 Key points to achieving Success.

Panellists:
Dan Reed - Emmy-winning UK Director/producer (Leaving Neverland, Terror in Mumbai, The Valley);

Emer Reynolds - Emmy-winning producer/director (The Farthest, Phil Lynott Songs For While I'm Away);

Brendan Byrne - Award-winning director/Producer (Bobby Sands: 66 Days, Gaza, No Stone Unturned)

Sinéad Ó Shea whose debut feature-length documentary A Mother Brings Her Son to be Shot has earned rave reviews and was nominated at CPH: DOX
This will be an online Zoom Event -
You will be sent the Zoom Access Link by email
Visit the Skills in Focus: Documentary - Excellence in the Craft event page
First-Time Feature Directing
This event will focus on sharing the skills and expertise developed by 4 Directors whose first film has, not only demonstrated exceptional skill and filmmaking talent on the part of the director, but also has shown the necessary techniques and methodology in transitioning successfully from short film to feature film. These skills and methodologies will be outlined in detail by our panellists for attendees to aid in their training. These include:
Planning your First Feature (Prep, funding, shooting schedule, key talent)

Transitioning your Skills from Short Film Making to Feature Film.

Problem-solving the challenges that arise.

3 Key points to achieving Success.

Panellists will be announced shortly
This will be an online Zoom Event - You will be sent the Zoom Access Link by email
Visit the Skills in Focus: First-Time Feature Directing event page